The other night, I got up to go to the bathroom and found the following text from a number that was not listed in my contacts:
Usually, I would just chalk it up to being a wrong number, but there was something familiar about this phone number that had me pause. After thinking about it for a minute, I realized I knew EXACTLY who that was.
And my skin crawled.
Why, dear God, is he reaching out to me after more than a DECADE????
You see, back when I was young(er) and dumb(er), I dated this douchebag. I could honestly write a book about the reasons this guy was a jerk. Number one on the list would be that he would have underage me come over on his weekends with his son, and then he'd go off to the bars with his boys while I babysat. I was the one who dyed Easter eggs and made gingerbread houses with his kid while he would sleep off his hangover the next day. See? I picked a real winner there.
And the truth is, I knew it from day one. But I didn't believe, at the time, that I deserved better.
Also? I really liked his kid. I had more fun hanging out with his kid than him!
When our on-again, off-again relationship finally ended for good, we parted ways and haven't spoken since.
And then I wake up to this text at 4:30 in the morning!
I debated, pretty much all day, about how and if I should respond. So many options crossed my mind: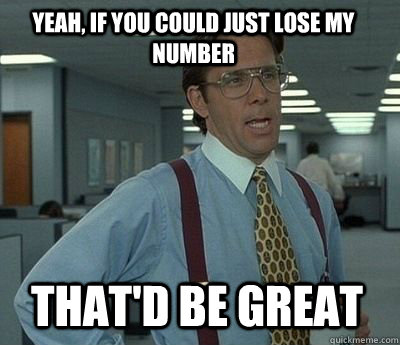 I mean... the possibilities are endless, really. But after consulting the experts, I decided to be mature and say nothing.
Being an adult is NO FUN!
And then last night? He texted me AGAIN!!!! Same text. Different spelling. Because he clearly hasn't learned a thing in the past eleven years.
And this time... the jerk had the nerve to wake me!
I still haven't responded... because I'm trying to be an adult even though my inner bitch is dying to unleash the library of snarky memes I have saved on my phone. I have no one else to use them against!
So, tell me... would you respond???