I have exactly ONE Korean friend. Her name is Sunny, and I love her to pieces. We used to work together, back when I worked in Corporate America and have stayed friends for more than a decade now!
Sunny LOVES sharing her culture with me, probably because her white friends all come from work. No seriously. Her wedding included more than 500 guests, and she told all her family to be nice to the white people because those were her coworkers! That still makes me laugh!
Another thing about Sunshine (as I love to call her) is the fact that food is kinda what makes the world go around. On her honeymoon in Hawaii, I think 90% of her photos were of the meals she and her husband ate. Because of this, though, she makes a great travel companion (I spent a week with her in Atlanta and never ate so well in my life) and can recommend restaurants practically anywhere!
Last year, Sunny met up with Joel and me for dinner at a local Pan-Asian restaurant with the goal of teaching us about some new foods to try. Everything she recommended was drool-worthy. She is probably the person I trust most when it comes to trying things outside my comfort zone... and we're talking about a very small circle there. This restaurant, in particular, has become one of our absolute favorite places, and we always order the exact dishes she recommended.
After dinner, she took us to the H-Mart, which is an Asian market. We walked up and down the aisles, where she taught us about all sorts of foods with labels we couldn't read! haha By the time we left, we had a bag full of all her favorite childhood snacks because she insisted we try them. I'm not ashamed to tell you that we sat on our bed at midnight,
devouring
taste-testing everything in the bag. As usual, she was spot-on!
Today, Resha and I were looking for toddler activities we could do with Aniya, and one thing we found on Pinterest included
edible water beads
, which you make with boba (tapioca pearls) used in bubble teas. This led to a discussion about how much we L.O.V.E. the bubble teas (or... technically freezes) at this restaurant.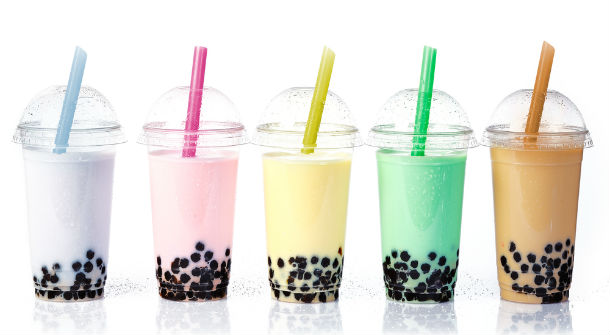 And then Resha revealed that she didn't even know what we were talking about.
In intervention was 100% necessary!
So, we grabbed Aniya and took a family trip to the restaurant. And then were sadly reminded (by the empty parking lot) that it was closed for renovations.
Backup plan: there's a place at the food court in the mall that sells them. They're not AS good, but they will work in a pinch.
And then I had the brilliant plan to stop at the H-Mart across the street to buy bobas there. Then, we could make our own at home! Also, we needed some for the water beads activity.
Resha and I ran into the store while Joel waited in the car with the now sleeping toddler. We were supposed to "hurry up," but I couldn't take Resha to H-Mart without introducing her to our favorite Asian snacks. So, of course, I had to buy them all.
They were a hit. Everyone loved them. Aniya especially enjoyed the Banana Kicks. They're the exact consistency of Cheeto Puffs, but they are banana flavored.
I know... that sounds absolutely disgusting. That's what I thought too.
But Sunny recommended them, so you know I'm not lying when I say they are FABULOUS!
We stopped at the mall for our drinks, only to be told they were all out of Bobas for the night. The people in line before us were the LAST customers to get it. I tried pleading with our cashier, telling her that we had a boba virgin who NEEDED some pearls in her life.
No dice.
So, we got the freezes anyway and decided to add our own bobas at home.
Because all the directions online said they only take 5 minutes to make in a pan of boiling water.
Except that the Internet is a bathroom wall (a saying my high school English teachers ingrained in my mind) and FULL OF LIES.
Our bobas were not done in five minutes.
Or ten.
Or even thirty.
Nope.
It took 1 HOUR AND 20 MINUTES for our bobas to be the wonderfully squishy balls we desire.
And when we added them to our drinks, the consistency somehow changed. They weren't as squishy anymore.
It's a good thing I bought two other brands because WE are on a mission, people. Resha NEEDS some good bobas in her life!